That special day is coming up. Are you looking to buy your dad a gift for Father's Day? But are you struggling to come up with the right gift ideas because your dad is visually impaired? There are several gifts to buy for anyone who is visually impaired. Keep reading this article for 5 gift ideas for the visually impaired.
1.
High-Powered Magnifying Glass
Magnifying glasses make a wonderful Father's Day gift. Depending on the diagnosis of the visually impaired's condition, reading gets more difficult. But the use of a high-powered magnifying glass makes it easier. Especially one that has a light. The magnifying glass allows visually impaired users with low vision to read text, no matter what size.
 High-Powered Magnifying Glasses are easy to use. With one touch of a button, you're ready to read. Aside from books, you can use the magnifying glass to read the newspaper, look at photographs, study pill bottles, and even tend to your hobbies.
 Your dad will be really happy to receive a high-powered magnifying glass as a gift this father's day.
Watching TV gets tougher. Not only is it hard to see the TV, but it is complicated to operate the remote control. For Father's Day, get your dad a large remote control. It is a perfect gift for someone who is visually impaired. Instead of using a remote with an assortment of buttons, get one that is simple to use. Large remotes have only 6 buttons.
 Make your TV viewing simple. Now your dad can flip the station without any complication to watch that big game on television. And it's also an opportunity for you and your dad to watch a movie together.
 One thing that you should be aware of about this remote is is that it does not have navigation buttons for streaming devices. Make sure that you and your dad read the directions closely so that no mishaps occur.
 Here are more features to a large remote:
 - The remote has three key functions:
1. It turns on and off
2. Volume control
- Works with multiple devices. You can use the remote for the TV, satellite box, Comcast, Direct TV, and more
-
Take advantage of the opportunity to save your favorite features - and eliminate channels that you don't bother to watch. Everyone needs that.
-
The large remote has a special lock feature. It refrains you from accidentally making late calls at night
The Vision Buddy V2 headset is the best Father's Day gift you can get. It's a simple device that is easy to use. The Vision Buddy can assist anyone who is visually impaired to perform day-to-day tasks easier. You'll make your dad a happy man because now he can have a better way to view the TV and finally watch all the sports and shows he loves.
Vision Buddy is an ultra-simple Television Watching system. It is designed for various low vision eye conditions such as macular degeneration and retinitis pigmentosa. Just plug the transmitter into a cable box and watch live television directly into the headset.
That's not all. See what else the Vision Buddy V2 can do:
 - Users can be more independent, and enjoy hobbies
- Switch to magnify small print and see the flowers in the park
-
More reading time. The Vision Buddy zooms in and enhances what you are reading. Or you can use OCR to read the text aloud. It makes it easier to read that small print on medicine bottles.
-
The device also lets you see those tiny numbers on the thermostat and microwave so you can operate them
4.
Magnetic Textile Watch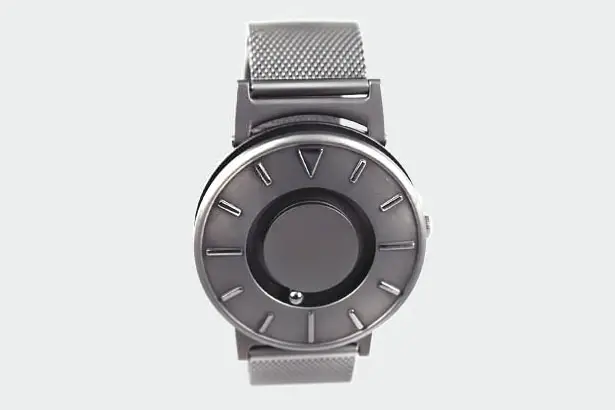 It's very important to be able to tell the time. Get your dad a watch this Father's Day. And not just any watch. Get him a magnetic textile watch. This watch is a handy source for individuals with low vision. What makes it stand out from other watches is that in a non-Braille watch.
Also it is set like a standard analog face watch. The only difference is that time is set easily by pulling out the crown and turning the hands in a clockwise direction.
 Take a look at the styles. One magnetic textile watch has a black metal face with a steel mesh band, while the other has a dark gray metal face with a brown leather band.
 Read on to find out more features of the Magnetic Textile Watch
 - It has two ball bearing to indicate the time: the outer one tells the hour, while the inner marks the minutes
-
The watch has a battery that lasts five years
5.
Voice Command Alarm Clock
It's tough when you wake up at night and you're not sure what time it is. That's why you should gift your dad this Father's Day with a Voice Command Alarm Clock. The clock talks back to you, alerting you of the time. These alarm clocks make a special Father's Day gift because it earns your dad more independence.
 The voice command alarm clock is also set with 25 personalized reminders. Another highlight is that it speaks in any language. Set to the language you are comfortable with.
 The voice command alarm clock makes a wonderful Father's Day gift because you can record messages. If you and your dad don't get a chance to see each other, he'll be over the moon that he has the opportunity to hear your voice on the clock every morning. Make your Father's Day come from the heart.